Stack repairs and rebuilds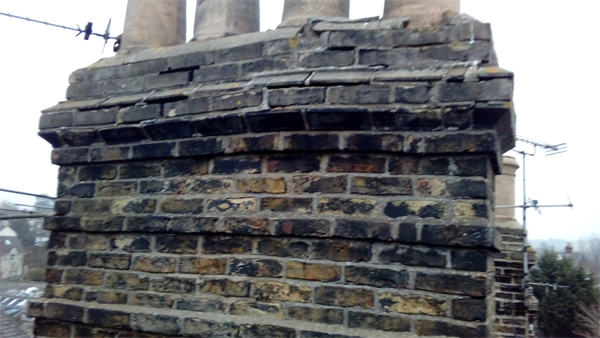 Worn or cracked chimney flaunchings (the cement on top, around the pots) allow water to penetrate lower into the masonry joints. After several freeze/thaw cycles, these mortar joints fall out, causing substantial damage to the brickwork and potential roof damage from falling masonry. "A stitch in time" is a most apt expression with regard to stack repairs.
From minor cement repairs to complete rebuilds, we can access any chimney to re-point or re-lay brickwork, replace chimney pots or flashings, cap off, vent or dismantle disused stacks.
It's important to use the appropriate materials for a given chimney, not only is it aesthetically pleasing for an older chimney to be repaired with traditional, age appropriate materials, but it is important from an engineering perspective too. Many builders will use modern portland cement with old bricks and not only does this look unpleasant, but it often cracks and spalls the old soft bricks. We will always use traditional lime mortar where appropriate and will endeavour to source age appropriate and matching bricks and pots for your chimney.
Contact us now for a free quote or advice.