Stoves
Unlike many companies, we don't mind where you obtain your stove - we are chimney engineers and Hetas approved installers, not a stove shop!
We are happy to install any stove supplied by the customer and we aim to beat any other approved installer's quote but due to demand, for customers who require us to supply a stove as well as installation, we can now obtain many makes and models at discount prices you're unlikely to see anywhere else including Stovax, Villager, Morso, Franco Belge, Westfire, Woodwarm, Jotul, Redfyre, Dovre, Vermont and many others.
Please note; these special prices are only for customers in our area (N & E London and most of E.Anglia) having the stove installed by Chimtec.
If the stove you require isn't listed, please ask us for a price - it could be as much as 30% below recommended retail price, and we can still install for much less than our competitors, after all, we don't have an expensive showroom to run!
If you want to see stoves 'in the flesh', we cheekily suggest you visit your local stove shop, then let us beat their price for both the stove and the installation!
Stove Installations
We can't really give an indication of installation prices here because there are several factors to consider, such as type of flue, height of flue, access to stack, etc, but we can usually give a pretty good idea of cost over the phone, we just need a little information, then we can give a fixed quote following a site survey.
Here is a small selection of some of the more popular models, and a list of some of the others available at discount prices only to installation customers.
Don't see what you're after? Not sure what kind of stove you need? Please just ask!
Villager C Wood Stove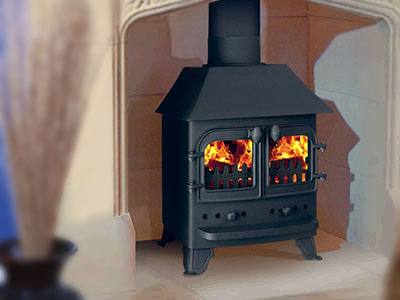 A nice inexpensive 5 kw woodburning stove from Villager.Great build quality, British made, heats a 70 cubic meter room.
RRP £620 Low canopy version (shown)
Our Price £485 Low canopy version (shown)
RRP £535 Flat top version
Our Price £425 Flat top version
(Includes VAT, stove pipe and delivery) - Dimensions; 630mm(h) x 468(w) x 335(d)
Westfire Uniq 4 Standard Wood Stove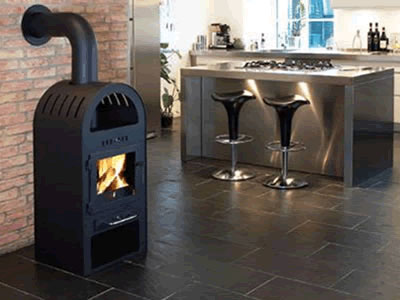 Another gorgeous offering from the Vikings, this modern classic gives 5 kw, a very high quality stove at an affordable price. Cleanburn and airwash as standard.
RRP £680
Our Price £550
(Includes VAT, stove pipe and delivery) - Dimensions;1050mm(h) x 500(w) x 410(d)
Morso Squirrel (Standard) 1410 Multifuel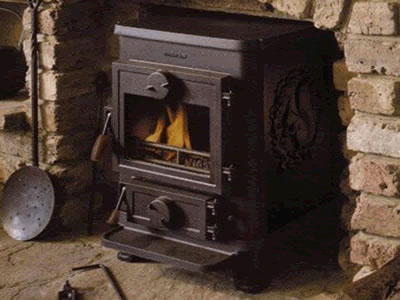 It gets a bit chilly in Denmark, the lowest ever recorded temperature was -84.8! Maybe that is why they make such great stoves; this little Morso is 75% efficient, it chucks out 4.5kw and fits nicely into a standard size fireplace.
RRP £838 Low canopy version (shown)
Our Price £665 Low canopy version (shown)
(Includes VAT, stove pipe and delivery) - Dimensions; 546mm(h) x 388(w) x 415(d)
Morso Squirrel 1412(Smokeless Zone Approved)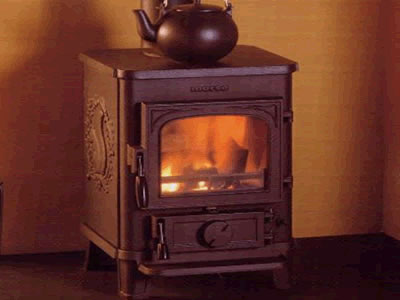 Similar to the above but with cleanburn technology, so you can burn wood in smokeless zones. A very sturdy cast iron stove with high heat output (4.7kw) for it's size.
RRP £970
Our Price £755
(Includes VAT, stove pipe and delivery) - Dimensions; 524mm(h) x 385(w) x 385(d)
Westfire Uniq 15 Wood Stove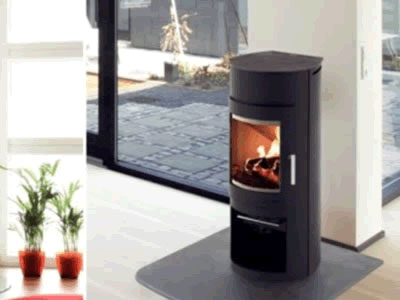 At Chimtec, we come over all unnecessary at the sight of a Westfire, these are just the sexiest stoves on the market! This Scandinavian beauty is just one of their range of contemporary wood stoves from Denmark; all models are available from us. Westfires are top of the range and that's reflected in the price, but worth every penny if it's style, sophistication and technology you're looking for. This is one of the most advanced stoves in the world at a record 84% efficiency. Defra approved for use in smoke control zones, good for the environment as well as a stunning addition to a home. Available in black or grey with a 5 year manufacturer's guarantee. Cleanburn and airwash as standard.
RRP £1497
Our Price £1200
(Includes VAT, stove pipe and delivery) - Dimensions; 1070mm(h) x 440(w) x 430(d)